Raise your hand if you love winter!!!!🙋‍♀️❄️
It's also okay if you'd prefer to be sipping a tropical cocktail under a palm tree but tolerate winter for your snow dog, or just want to make the best of winter in Michigan.
As a Newfie and Great Pyr mix mom I just accept that I'll be spending a lot of time outside in the winter.  And if it's going to be cold I'd rather that we have some snow to make it pretty.
If you're considering planning a photoshoot with your pup to celebrate all that you love about winter, you're in the right place. Because today we'll talk about a topic that I get asked about time and time again: What winter wear do you wear for your winter wanderings?
For Your Pup
Your pup looks beautiful in the fur they were born in, but there are several ways to jazz up the style! Start with their best collar or splurge on a new one, then consider any accessories like bandannas, scarves, or bowties. If it's going to be very cold or you just want to be that little bit extra, a stylish jacket or cute sweater is the perfect outfit choice.
When it comes to dressing for the weather, you know your dog best – if they could sunbathe in a snowstorm, just have a jacket or blanket on standby if the weather looks extra chilly. If they shiver out of their fur at a breezy 60 degrees, have a sweater, jacket, ear coverings and booties worked into their outfit, plus a blanket to scoop them up in if your pup is near pocket-sized. According to the Stella and Chewy website, most medium and large, thick-coated dogs are fine in temperatures above 20 degrees. However, small dogs or dogs with thin coats may need to start bundling up when temps get below 40.
For You
Now that your pup is prepped, it's time to coordinate! Avoid loud and bright colors/patterns that are distracting. Winter can be a great time to bring in bolder colors like reds and greens, but mostly, think neutral earth tones for your clothes to keep the focus where it needs to be.  Or think about the colors in your home to keep your wall art and personal style cohesive.  And remember, if you have a black dog you don't want to wear much black or everyone will blend in together.
I find that fleece-lined jeans or khakis are fantastic.  You stay warm, but you keep a classic look and the neutral colors makes it easier to coordinate with jackets and scarves.  Land's End also makes some fabulous super-thin thermals that you can wear under regular clothes (so you don't look like a snowman in snow pants).
Ear muffs are going to have the least effect on your hair, but you can always bring a hat and we can get some images without it first and then we can add it in for some variety.
You might have heard me talk about my secret winter weapon before, but it bears repeating.  A heated jacket is literally life-changing.  Especially if your pup needs a daily walk.  Use your photoshoot as an excuse to invest in a jacket and you will not regret it!
Prepare to shed some layers, especially if your pup is higher energy and may have you working up a sweat!  Use easily removable layers to stay warm, like vests, scarves, and gloves, and have one big jacket or blanket to bundle up in between shots. 
For Little Ones
The key for little ones is to keep them comfortable.  They will most likely be rolling and playing in the snow (at least I hope so!).  So we don't want them to get cold.  If you let me know what colors you'll be wearing in advance I can usually bring some blankets that coordinate so we can always bundle the littles ones up, but that requires them to be stationary and I don't count on that :).
This is also where having matching scarves can be cute!  If you're up for it we can also talk about the photoshoot location, there are a few where we might be able to include some sledding.
I'll also bring some tissue for any runny noses.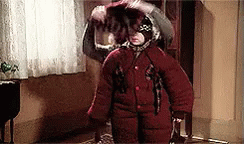 Finishing Touches
Bring it all together with one or two pieces that coordinate! If your dog has a leather collar, match them with a belt, shoes, or a bag in the same tone. If they have a fabric or solid color collar, think bracelets and necklaces, or even "friendship collars" that are made as a set. You can also tie together bandannas and scarves for a cute look! If your session is going to include and kids too, consider cute accessories like bowties or hairbows that can be matched easily on a headband or collar for your dog to wear.
Sites like Dog Threads or small creators on Etsy are great places to find matching clothing and accessories for occasions just like this!
Other Tips and Things to Consider
A word of winter caution: Chemicals and salts in ice melt products can cause irritation and even burns to paw pads! There's also the possibility of soreness and cuts from jagged edges that could lead to infection. The best way to prevent this is to avoid areas that have been salted on the way to your shoot, or bring a pair of booties in case you can't avoid it. Here's a great article on this from BondVet.
If you plan to use booties in your outfits to keep paws warm and protected, or even just because they're cute, start training now with positive reinforcement to make this tool easy to use on the day-of! Lots of dogs aren't sure about having things stuck to their feet and this can add stress to the day of your photoshoot. Starting training with booties (and all pieces of clothing!) as soon as possible will make your photoshoot a great experience for everyone!
But if you pup just doesn't like wearing anything on their paws you can always go with the standard Musher's Secret.   That's what we use with Bernie and Violet.  It's a lot like vaseline and not only puts a protective coating over your pup's toe beans, but it also makes it much easier to slide out any little snow balls that accumulate between their paw pads.
Finally, bring your hot hands and get ready to smile! It's all about having a good time together and I can't wait to create some Winter Wonderland photo magic with you!
Check out some of my favorite dogs in winter images for some inspiration.